Steil Kranarbeiten has bought a new Liebherr LTM 1650-8.1, which will expand the company's mobile crane fleet. Steil decided to buy the full range of equipment, including both boom versions, a 54 metre and an 80 metre telescopic boom, and the complete luffing jib. The good experience the company has gathered over many years operating several Liebherr LTM 1500-8.1 cranes had a major bearing on the purchase decision. Other important factors behind the purchase of the new mobile crane included advanced developments and new features compared to the previous model.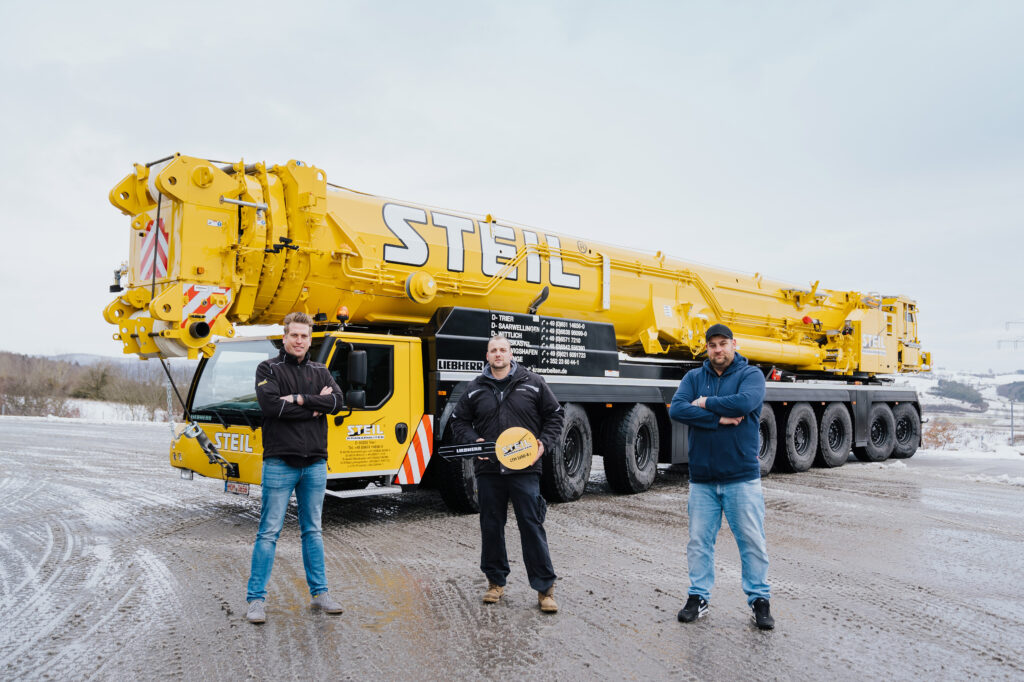 "We have operated several Liebherr LTM 1500-8.1 cranes for many years and have now invested in its successor. It is another 8-axle crane which has the same compact measurements with the H-outriggers. The lifting capacity values on the luffing jib are enormous."
says Birgit Steil, the owner of the company based in Trier.
The LTM 1650-8.1 is the successor to what is currently the most successful of Liebherr's large crane range, the LTM 1500-8.1. With a lifting capacity of 700 tonnes, it exceeds the capacity of its predecessor by 15 to 50 percent, depending on the equipment package.
The LTM 1650-8.1 is designed to deliver maximum performance. The concept of the easily interchanged boom enables operators to choose between a 54 or 80 metre telescopic boom, which delivers fantastic flexibility. Telescopic section 3 with its pulley head is simply replaced with telescopic sections 3 to 5. The short boom reduces transport costs and erection time whilst the large boom is also available when required. The long boom configuration is ideal for jobs requiring a large radius. The two boom versions can also be fitted with a luffing jib. When it decided to buy the new LTM 1650-8.1, Steil decided on the full range of equipment with both boom lengths and the maximum luffing jib of 91 metres.
Steil is mainly planning to use the new LTM 1650-8.1 for jobs in industry, port handling and for wind power.
"The requirements in industry and wind power are constantly on the rise as are the required lifting capacities. Furthermore, the concepts of VarioBallast® and VarioBase® are another benefit of the crane"
adds Birgit Steil.
The standard VarioBase variable support base delivers additional increases in performance in the zone above the supports.
"Liebherr's good service, the durability of the machines and the ongoing development of Liebherr cranes all played a part in helping us decide to buy it"
says Steil.
Steil Kranarbeiten GmbH & Co. KG now has a workforce of over 300 and operates a very diversified fleet of 115 cranes. Over half of them bear the Liebherr logo. Steil provides regional crane services. However, the group operates throughout Europe in the wind power industry. In addition, it provides heavy haulage, recovery and towing, machine relocations and oil spill removal services. Its subsidiary Onroad provides crane relocation services throughout Europe.