ASV's branded attachment line is getting larger. There are more attachments repeatedly tested for use on ASV compact track loaders and skid steers. The expanded line includes trenchers, augers and bits, breakers and soil conditioners.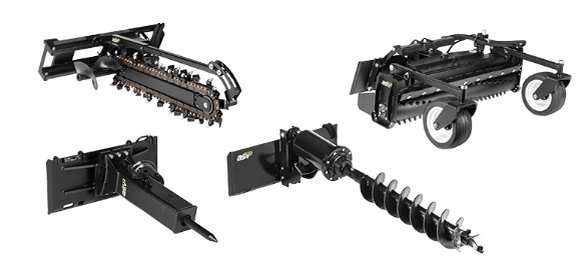 Asv guarantees that the chosen attachment by custumer will work seamlessly with his ASV machine
Buyers can do all of shopping in one place at their local ASV dealer. It gets even better for eligible commercial buyers, who have the option to bundle the attachment in the finance package.
ASV reinforces reliability of ASV attachments with a 24-month warranty on each new attachment.
ASV compact track loaders' undercarriage allows operators to do more work in more places and seasons. In short, the undercarriage:
Provides a smoother ride for a premium operator experience: ASV Posi-Track compact track loaders include our patented rubber track system for a smoother ride. Torsion axles allow controlled movement up and down, absorbing impact and improving operator comfort.
Leading performance on all terrains: ASV Posi-Track CTLs achieve leading traction and ride quality on all terrains, maximum performance on steep slopes, less risk of turf damage and virtually eliminated derailment.
More power to the ground: Highly efficient engagement between the sprocket and tracks transfers more power to the track for higher grounds speeds, better traction and optimal fuel efficiency.