Doosan Infracore North America recently delivered the first Doosan dozer, a DD100, to a Best Line Equipment customer in Pennsylvania. The 9-metric-ton machine is among the first Doosan dozers to arrive in North America, and it's the first DD100 to be delivered to a customer: Ratoskey and Trainor Inc. Owners Ray Trainor and Rob Ratoskey operate a grinding and mulching business in East Norriton near Philadelphia. The company sells topsoil, mulch and other products to customers in Southeastern Pennsylvania.
Best Line Equipment transported the first Doosan DD100 dozer from its Allentown, Pennsylvania, location to Ratoskey and Trainor on Thursday, August 4. Upon arrival, the machine quickly went to work in a large pile of dirt that will be turned into topsoil.
"Best Line Equipment is honored to receive the first Doosan DD100 dozer. After hearing so much about the Doosan dozer, we're excited to finally see the machine up close and deliver a new model to one of our best customers."
says Armand Cencetti, sales manager at Best Line Equipment.
Best Line Equipment is one of the top North American Doosan dealers and has nearly a dozen authorized Doosan dealerships in Pennsylvania and New Jersey. The company was founded in 1985 by Mike Houseknecht in Muncy, Pennsylvania, and today is guided by his sons, Adam and Ryan Houseknecht.
"We are thrilled that the first Doosan dozer has successfully been delivered to a customer. There was tremendous interest from our dealers last fall at our 2021 dealer meeting. We demonstrated a pre-prototype Doosan dozer to our dealers at our training and testing facility in Arizona. They were immediately impressed with the machine's abilities."
says Todd Roecker, vice president of growth initiatives for Doosan Infracore North America.
"Adding the dozer signals our continued focus in North America and our commitment to offering a complete lineup of Doosan construction equipment."
adds Roecker.
About the Doosan Dozer
This dozer model was the first to be produced through the collaboration of various departments at Hyundai Doosan Infracore (HDI), including development analysis, market research, competitive benchmarking, validation and pilot vehicle assembly. In addition, purchasing and quality teams investigated parts supply while production teams completed the first production dozer model.
The 122-hp DD100 dozer expands the lineup of durable, rugged Doosan construction equipment and pushes the limits of what a dozer can do. It delivers more pushing power, superior traction, greater visibility, easier operation and advanced technologies to push past the limits of productivity. It's built for the most demanding conditions and features a dual/single flange-type roller with several track guard options. Electrohydraulic controls make the new Doosan DD100 dozer easier to operate, even for inexperienced operators.
Designed with operators in mind, the DD100 features the 8-inch Smart Touch display, giving operators complete control from a convenient, easy-to-read touch screen. It also offers superior visibility with minimized front pillars, maximum glass area and a standard rearview camera — plus LED lights and front, rear and side wiper blades.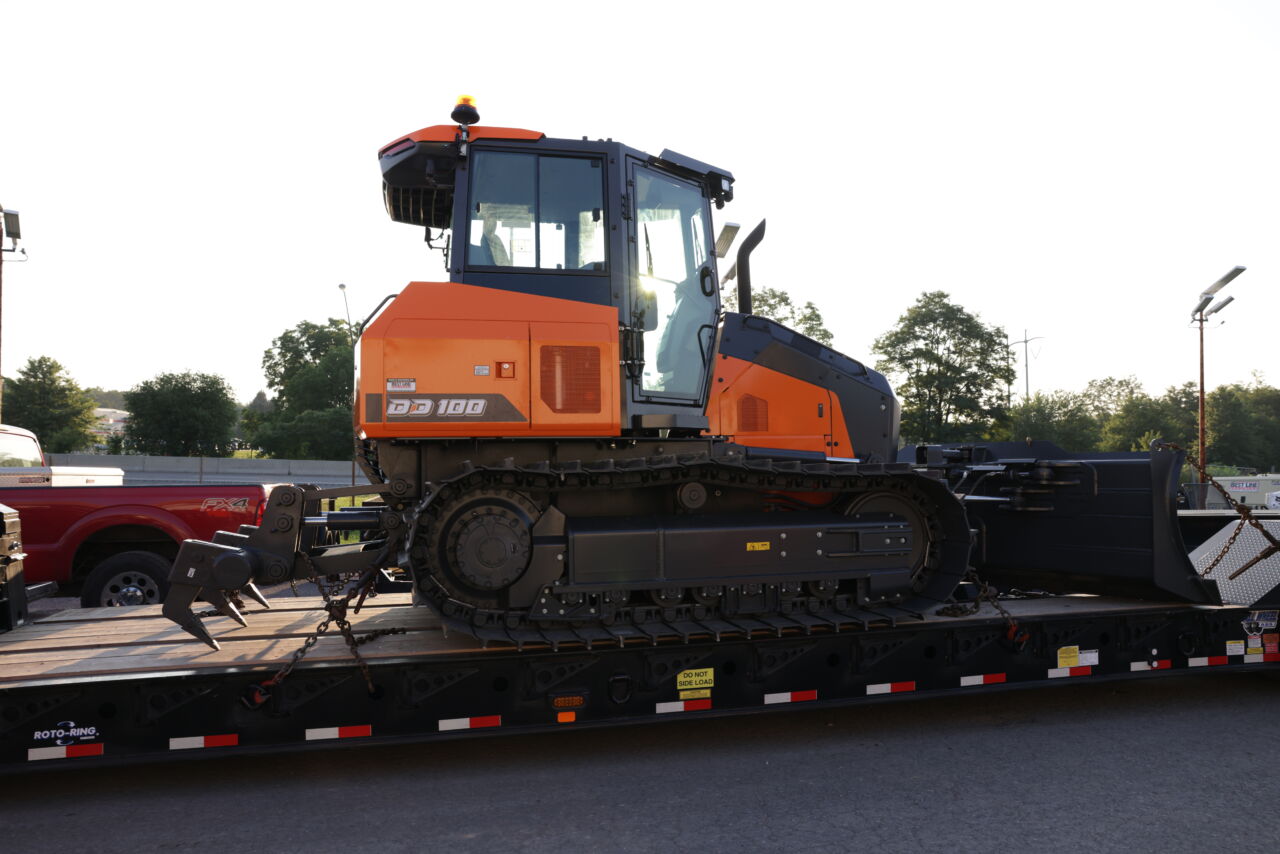 HDI has also set plans for its 13-metric-ton dozer — the Doosan DD130 — and will be shipping a pilot machine later this year. The company aims to start production in early 2023.
Doosan DD100 Dozer Specs
Horsepower (gross): 122 hp (91 kW)
Operating weight: 25,309 lb. (11,480 kg)
Blade capacity: 3 cu. yd. (2.3 m3)
Blade height: 3 ft. 7 in. (1.1 m)
Blade width: 8 ft. 10 in. (2.7 m)
Blade angle: 22.5 degrees
Drawbar pull: 33,721 lbf. (15,296 kgf)
Track length: 7 ft. 7 in. (2.3 m)
Travel speed, max: 5.7 mph (9.2 km/hr)
Source: Doosan