Ammann's presence at bauma 2022 in Munich recognises this new world, which is reflected in the company's show theme of, "Sustainability. Productivity. Connectivity."
"That is not only our focus at bauma 2022, but our commitment on a daily basis," "Our customers increasingly need products that are more sustainable. There also is an industry need for improved digital tools and connectivity between machines and the office. Our customers tell us they need advances in these areas without any drops in productivity. In fact, productivity is more essential than ever."
said Hans-Christian Schneider, CEO of Ammann.
Ammann will be at Booth FS.909 at the show, which is billed as the largest trade fair for mixing plants, roadbuilding machines and other construction technologies and equipment. The fair will run from 24-30 October.
"There is always a great deal of excitement around bauma. If possible, this particular show might be even more highly anticipated as it marks a return to a major in-person event. It will be our first chance to reconnect personally with many of our customers."
Schneider said.
The pillars of sustainability, connectivity and productivity are represented across the more than 100 products Ammann will display at the stand. Several new initiatives will also be highlighted at bauma 2022.
CONNECTIVITY
Ammann recently introduced ServiceLink, a digital telematic data management tool that provides customers with the information they want the most: machine location, battery status and operating hours. Data transfer is automatic and access to the information is only a click away.
Machine delivery and pickup logistics can be vastly improved. Maintenance, too, is more efficiently scheduled.
Ammann ServiceLink can be added to light and heavy compactors, pavers and other machines – whether they were produced by Ammann or another manufacturer. Key to the system is a new generation of hardware that ensures the essential data is available to customers in a reliable, affordable manner.
A heavy equipment version of ServiceLink offers additional functionalities, such as fuel consumption, operating data and more. The data management enables greater control over fleet health, utilisation, efficiency and productivity.
The optional Ammann Documentation System (ADS) records data that is measured by Ammann's proprietary ACEforce or ACEpro Intelligent Compaction systems. The data then can be analysed to improve efficiency and quality control – and to save passes of the machine, the ultimate productivity gainer.
ADS tracks machine passes and compaction progress with GPS positioning. Each individual roller pass shows the achieved material stiffness (kB value), temperature, roller speed and effective amplitude and frequency. It also displays (and records) the date, time and place of the compaction – with accuracy up to 5 cm.
All recorded data can be exported for further analysis and reviewed on a mobile device, laptop or via an app.
Visitors to the Ammann booth at bauma 2022 can examine the as1 Argon View, a new user interface for the as1 Control System for asphalt- and concrete-mixing plants. The interface provides constant visual updates about production status. It is intuitive, making it easy for operators to leverage all the plant's value and improve efficiency and productivity. It also helps operators stay focused and to easily track the entirety of the production process.
SUSTAINABILITY
This concept is intertwined throughout the Ammann product line, from the smallest rammers to the largest asphalt- and concrete-mixing plants – and everything in between.
ECOdrop, a sustainability initiative, starts by maximizing engine efficiency, which reduces both emissions and fuel costs. It also involves reconfiguring key systems and components to reduce the operational fluids required to run them. This results in lower costs for both acquisition and disposal of the fluids. The initiative offers improved access to service points as well, making maintenance faster and preventing costly fluid spills.
A closer look at one specific product, the new Ammann ARS 70 Soil Compactor, highlights the key features and benefits. With ECOdrop, the ARS 70 has seen reductions of:
22% in fuel consumption
26% in the required hydraulic fluid
10% in the needed vibratory system fluid
eMISSION, an environmentally friendly solution, is integrated into new Ammann products. It starts with reduced emissions – and incorporates efficiency, productivity and lower maintenance demands that make jobsites greener and business owners more profitable.
emissions reductions – Lowers levels of CO2 and other impurities
efficiency improvement – Utilises digital technologies to enhance product performance and jobsite management
electrification – Incorporates alternative power sources, including but not limited to electricity
PRODUCTIVITY
Ultimately, Ammann machines, services and technologies are about getting the job done – in a quick, cost-effective manner.
Ammann has released a new, highly advanced continuous compaction control system for soil and asphalt compactors. ACEpro takes the essential ingredients from previous products while adding lead-edge technologies.
ACEpro can be operated in an automatic mode, where amplitude and frequency are controlled and adjusted by the machine based on compaction targets, measurements and conditions. The adjustments improve efficiency and quality by sending optimal force into the ground.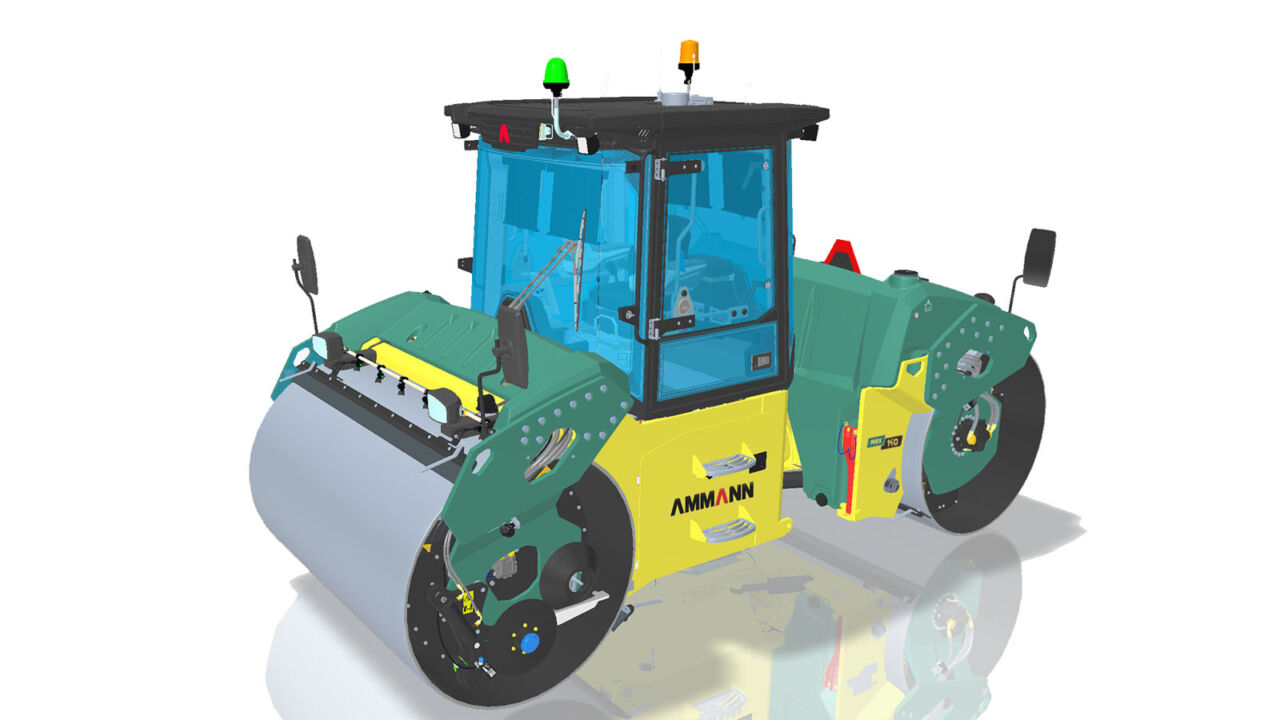 Operators are able to monitor progress in real time and assess when compaction has been achieved. This knowledge eliminates unnecessary passes of the machine – and all the costs they bring in terms of fuel, machine wear and labour. ACEpro also prevents over compaction and the damage it can cause.
Source: Ammann