As outlined in past editions of the Market Trends Report, equipment sales volumes declined through the pandemic, due to supply chain disruptions, as well as a variety of other sector-specific issues. However, since 2021 Ritchie Bros has seen volumes rebound for medium earthmoving and aerial equipment, while large earthmoving equipment sales continue to decline, in the United States anyways. In 2019, Ritchie Bros. sold approximately 13,000 large earthmoving equipment items in the U.S.—in 2022, that number dropped below 10,000.
One reason for this continued decline has been the rise in popularity of medium and compact earthmoving equipment, like mini excavators and multi-terrain loaders. One of the most significant changes there have been in recent years is the decline in large excavator volumes sold in the U.S. In 2021, Ritchie Bros registered a 10% decline in large excavator volumes. In 2022, we saw a further 25% decline. At the same time, there has been a multi-terrain loader and mini excavator volumes increase.
In Q4 2022 Ritchie Bros sold approximately 900 multi-terrain loaders in the U.S., which is close to double what we sold in Q4 2021. These compact units are extremely versatile and in high demand amongst buyers. In Canada, with lower overall volumes, the change hasn't been as drastic, which can be seen in the fairly smooth blue lines on pages 3 to 5 of this report.
Ritchie Bros still experienced overall volume declines in Canada through the pandemic, but not on the same scale as we did in the U.S. In fact, there were pockets of growth in Canada. In Q4 there has been hydraulic excavator volumes and prices increase in Canada.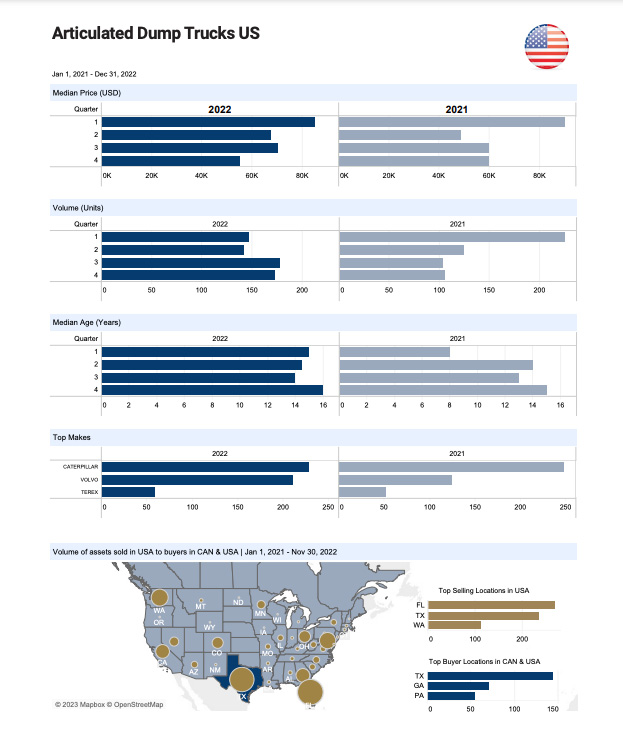 Learn more at: Ritchie Bros