Perkins Engines is pleased to announce that Andrew (Andy) Curtis has been appointed to a new role as customer solutions director. This newly established position will see Andy continue to focus on building relationships with key original equipment manufacturers (OEMs) around the world and supporting them through the energy transition to a lower-carbon future.
---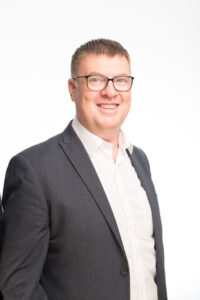 Throughout his career, Andy has exhibited a strong focus on customer collaboration. Most recently, Andy was OEM sales director, where he led the global OEM team through a successful EU Stage V introduction, as well as owning Perkins' Agricultural and Material Handling strategies.
"I'm thrilled to be taking on the challenge of this new role and growing a team of experienced professionals who are focused on working with customers to deliver the right solutions for the future. Perkins is strategically positioned to help OEMs through the energy transition. I look forward to spending time with our customers to help solve their challenges. I will also be available to meet with interested customers at many of the key trade shows this year, including CONEXPO-CON/AGG in March, where Perkins will be exhibiting its 48V and 300V lithium-ion battery configurations. I know many customers will also be interested in how Perkins' all-encompassing integrated powertrain resources can help them jumpstart development programmes and accelerate products to market by utilising our additional skillsets and insight."
said Andy Curtis.
Following Andy's job move, James Reed has been promoted to the position of global OEM sales director. James will be responsible for leading the global OEM Sales team, which he joined in 2019 originally as OEM sales manager. 
---
Throughout his career, James has held various roles throughout the business where he has shown strong leadership while ensuring that customers' product and services requirements are met. James also represents the business in several industry leading organisations including SAE International.
"I'm delighted to be asked to lead Perkins' OEM sales group. Having worked with many of our current OEMs in previous roles, my focus will continue to be on ensuring we collaborate closely with our customers around the globe. Striving to always meet our customers' needs is a priority for me, my team and the company, so I will be spending time with and listening to our key global OEM customers to make sure we are providing them with the products, services and solutions they need to be successful."   
said James.