Superior Industries, Inc., a US-based manufacturer and global supplier of bulk material processing and handling systems, has showcased more than 250-tons of its products at CONEXPO-CON/AGG 2023. At least eight of the products have been brand-new and revealed for the first time at the show in Las Vegas, Nevada.
"Inside is climate-controlled and comfortable, but our equipment and our people were born to be in the great outdoors! In addition to our massive display of equipment, we're incorporating lots of fun elements that only work in the open air. Things like 20,000 square feet of artificial turf, grilling and grill giveaways, laid back patio-style seating, and maybe we'll even roast a few marshmallows!"
says Corey Poppe, Superior's communications manager. 
Expanded Cone Crusher Portfolio
Two brand-new cone models have been introduced and shown alongside Superior's trusted Patriot Bushing Cone. First, the Dakota Bearing Cone, which will earn credibility for its efficient use of horsepower per ton, a straightforward lubrication system, and a wide range of liner profiles. The other new cone crusher has been called the Endeavor Spider Bushing Cone. Operationally, it's an uncomplicated design that accepts a wide range of feed sizes with an adjustable stroke for fine tuning. Superior also displayed its Liberty Jaw, Valor VSI, and Sentry HSI crushers.
New Portable Plant Utilized in Recycling
Designed to process in recycle applications, Superior's says its brand-new Portable Sentry HSI Closed Circuit Plant got plenty of attention under the Vegas sun. It's equipped with a patent-pending recirculating conveyor, which centralizes the crusher feed for full utilization and extended wear life of the HSI's blow bars. Other highlights include application-specific grizzly configurations, interchangeable cross conveyors, and screen media below the grizzly section.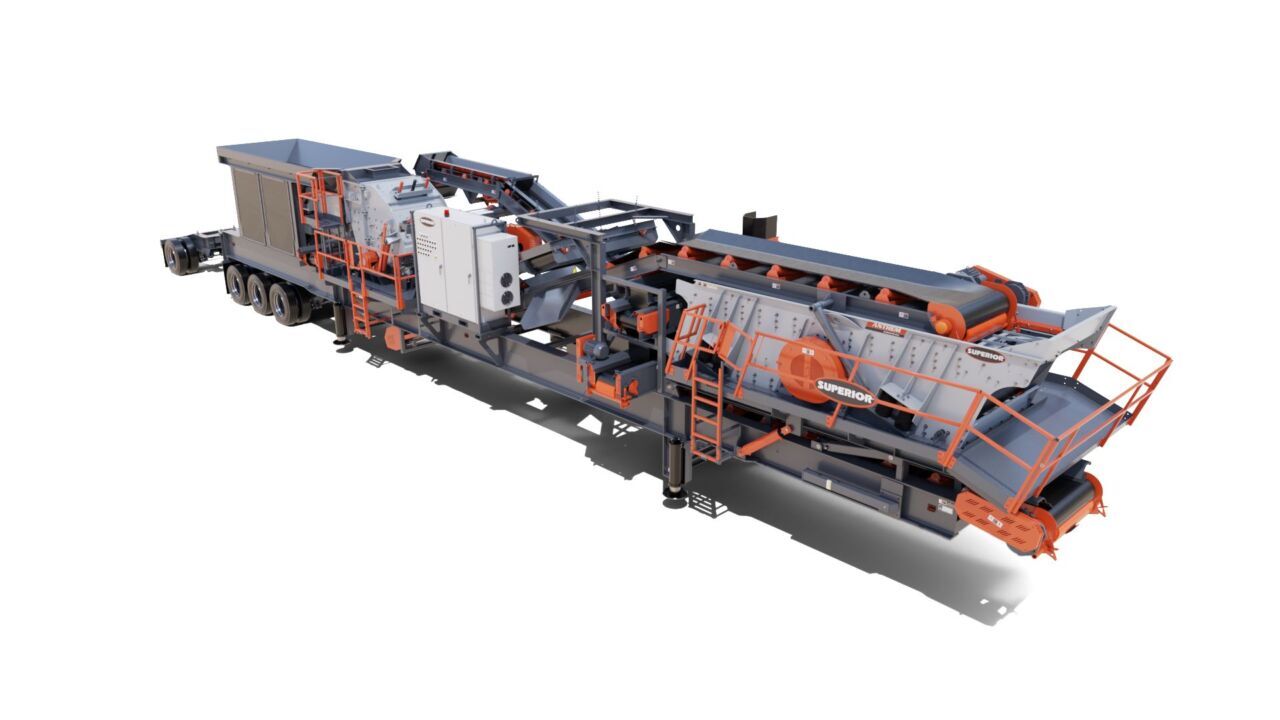 New Quick to Erect Modular Wash Plant
According to Superior, its increasingly broad portfolio of Fusion Modular Platforms are a good match for aggregate producers seeking semi-static plants that are easy to install and maintain with a more economical price tag than portable plants or design-build projects. On display, the company plans to erect a 8×20, 3-deck Guardian Horizontal Wet Screen Fusion Platform with an Aggredry Dewatering Screen attached to one of the discharge points.
Telescopic Stacker Builds 200,000-Ton Stockpiles
In 2023, it marks the eighth time Superior will display its famed TeleStacker Conveyor at CONEXPO-CON/AGG — and with each show there is new technology to showcase and new success stories to share. With radial travel, variable height and a telescopic conveyor, TeleStacker Conveyors stockpile material in a way that overcomes material segregation. This show, Superior will display a 42" x 170' XTP Swing Axle model with a working automation panel that visitors could interact with in the booth.
Conveyor Components to Reduce Maintenance Duties
Once again, Superior has displayed a wide variety of its own conveyor components. In fact, the manufacturer has shown more than three dozen individual idlers, pulleys, scrapers, and other conveyor accessories. New products include a redesigned line of Exterra Belt Cleaners with some brand-new options, a modular Load Zone Skirting System for dust and spillage control, and unique Application-Specific Idler Bearing Seals for longer-lasting idlers in demanding conditions.